Building permits
Next to a predetermined amount of customers you need building permits to build
factories
.
When the game starts off, the system will automatically give you a certain amount of building permits to ease your start. This amount will be reduced with each factory you build.
You get new building permits:
with each new factory you unlock
by reaching the hidden object game levels 3 + 5
by upgrading your Villa
Max amount of customers:
Next to building permits, you also need a certain amount of max customers. This maximum does not refer to the customers arriving by carriage, but to the customers that can stay on your map at maximum.
You can increase the maximum amount of customer by
building residential buildings
upgrading residential buildings
upgrading the villa
This image shows you how to get building permits and how to increase the maximum amount of possible customers: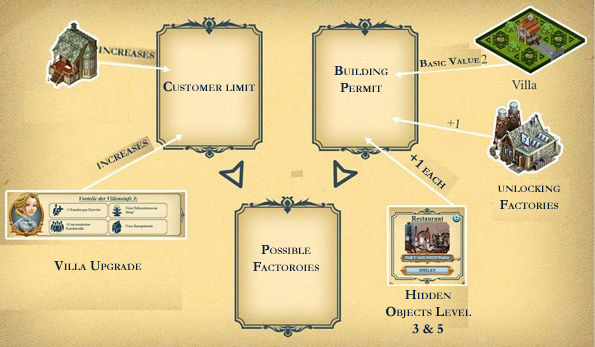 <<< Back to content >>>