In your villa, you won't just find your
hidden object games
, but, aside from the settings you may be familiar with from your
profile
, all statistics and the achievements you gained.
After having opened your villa, the respective buttons will take you to your achievements, the statistics as well as the villa upgrade.

Statistics
The statistics are subdivided into

Hidden object games
= the hidden object game points you gained in the respective factories

Diligence
= customers served and quests completed

Points
= experience and decoration points
Please note:

The points are not updated in real-time, but within predetermined period of times

Villa upgrade
You may upgrade a villa has soon as you meet specific preconditions, that is: predetermined amounts of hidden object game points in specific factories.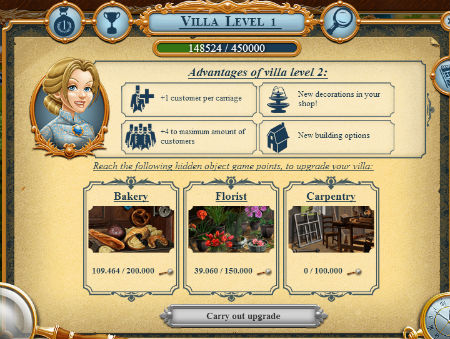 An upgrade won't just change your villa's look! With each upgrade, you will get
1 additional customer per carriage
The maximum amount of customer will be increased by 4 further customers 4
new decorations
new building options
Please note:

The amount of additional customers is always determined based on villa level 1. You will always receive one additional customer per carriage with each villa upgrade.

Upgrade levels
And here's how your villa might look one day...
(Example from Lieschen's village)
<<< Back to content >>>