As soon as new hidden object games are available, you will see a magnifying glass above your Villa.
Inside the villa, you can play 4 different modes of hidden object games for every completed factory placed on your map. The game chooses the mode to play itself; new modes are unlocked by playing the search games.
You may only play the hidden object games that belong to the factories you actually placed on your map and whose construction has been completed. Only these are displayed in color: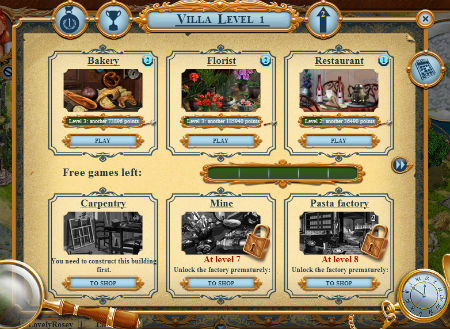 The four modes of hidden object games
Mode 1:
Find
all objects listed below the image
Mode 2:
Find
all the
differences
between two images
Mode 3:
Find
all
objects
an indicated amount of times
Mode 4:
Solve
riddles
Directly after having built a factory, only mode 1 will be unlocked; depending on the points you managed to amass by playing hidden object games, further modes are unlocked for the respective factory. There is no specific order; which mode you'll receive is determined randomly.
Try to find as many of the objects listed below the image as possible in the given time.

If you are having trouble finding an item, you can make use of four different aids: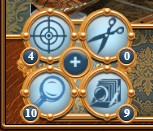 Crosshairs - Allows you to choose an object from the list that will be pointed out to you.
Scissors - Shows a random object you need to find.
Magnifying Glass - Gives you a magnifying glass. When you mouse over objects, ones that you need to find while be shown yellow.
Flash - There will be a bright flash, and the objects you currently need to find will turn white and then fade out again.
Each block of hidden object games consists of five free games (the first login of the day in combination with an active
premium account
will gain you five additional free games without having to wait)
[img]https://upportal.wavecdn.net/news/images/FAQ_Upt_Wimmel_04.jpg/img]
Each block of five free games is followed by a cooldown period. Depending on how often you play hidden object games per day, this period can increase up to a maximum of 1 hour. Using gems or goods, the time can be reduced: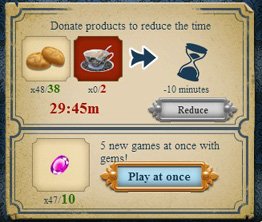 Finding objects gains you hidden object game points; if you manage to find all of the items within the indicated time, you'll get coppers on top of that.
Für gefundene Objekte erhältst du Wimmelpunkte; wenn du alle gesuchten Gegenstände in der zur Verfügung stehenden Zeit gefunden hast gibt es noch zusätzlich Münzen.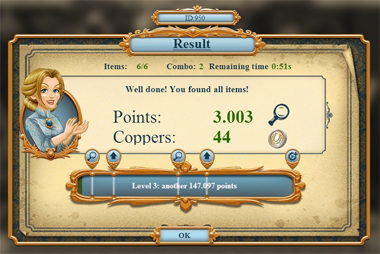 Completing combos (objects you manage to find after each other, without making a wrong click), will gain you more points; plus, if you manage to complete the game correctly, you will gain bonus points for the remaining time. The more hidden object game points you gain, the more modes you'll unlock. Bit by bit and step by step you'll thus unlock more challenging modes of the games.
Inside your town, you need the hidden object game points to unlock further production slots in your factories.
<<< Back to content >>>