The
Natural History Museum
is a feature that allows players to collect fossil pieces, assemble these, and later research extinct animal species and bring them back to life.
Collecting Fossil Pieces

In the
Fossil Hunt
tab of your Museum, you can send out
Paleontologists
to find fossil pieces for you.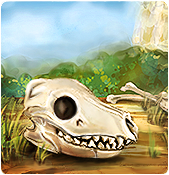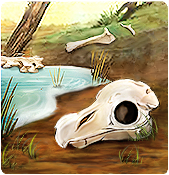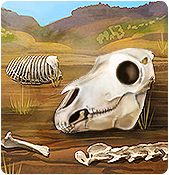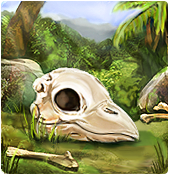 You have a choice between sending your Paleontologist out to find a
random fossil piece
from a certain era for Zoo Dollars, or sending him out to find a
specific piece
for Diamonds.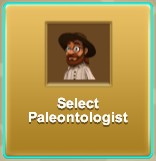 Once your Paleontologist returns, he will need a short vacation -- after all, spending hours digging for fossils is hard work.
Once you have collected enough pieces of a given species, you can assemble the fossil pieces into a skeleton, which is a decoration you can place in your zoo (or in the museum's exhibition area). You can find and redeem your fossil pieces in your
card piece inventory
, just like regular card pieces. Just like regular decorations, they have popularity values.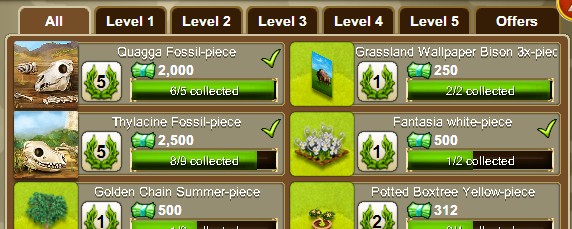 New species are unlocked by completing and placing skeletons of the species already available to you.
Bringing Extinct Animals back to Life

Skeletons are good, but living, breathing animals are better! The
Lab Techs
in your zoo are capable of extracting DNA from the fossil pieces you find, and using it to create animal pieces.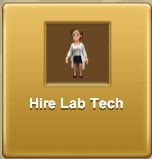 You can assign Lab Techs to research on fossil pieces in the "
Lab
" tab of your Museum.
Once you have begun the conversion process, you will be shown a list of related animals to the left.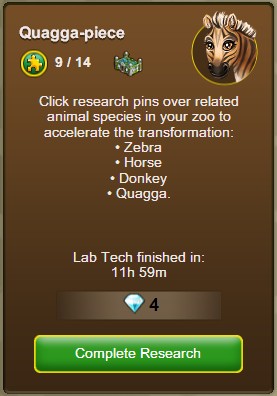 These animals are related species, and you can speed up the research process by clicking on research pins which appear over these animals in your zoo.

You can also hire
Research Assistants
that will zoom through your zoo on segways to take over this task for you. They can be hired in the Administrative Building just like other employees.

Once the Lab Tech is done with its work, it will give you a animal piece (and then the lab tech will need a break-- they're only people too!). Like the fossil pieces, these can be assembled once you have collected enough of them. These can be redeemed in your card piece inventory as well, and will reward you with a living, breathing animal! You can place it in your zoo and breed it too -- just like regular animals!
What if I don't want Extinct Animals in my Zoo?!
Don't worry -- your skeletons and the species you've brought back to life can be placed in your zoo, but they don't have to be. You can also keep them in the
Museum's Exhibition
area:

The Exhibition works like an enclosure house. You can put enclosures in it, and decorate it with with plants, decorations and wallpapers.