Dear park directors,
Valentine's Day is coming up, and love is in the air on
My Fantastic Park
!
With our
Valentine's Campaign
, you'll not just be able to spread the love on your park, but also to win great prizes, such as an entirely new attraction -
the Castle of the Knights' order
!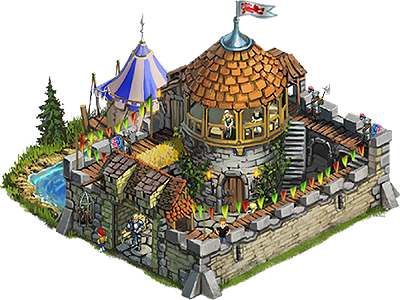 If you've participated at our
Christmas campaign
, you'll know how the system works:
From today until February 19th at 12 noon GTC (1 pm CET)
, you'll find a variety of different
Valentine's-decoration
in your park-shop. Use this to decorate your park and collect Valentine's roses. The more Valentine's roses. you manage to collect, the more and better presents you'll receive once the campaign runs out: if you're really buy, you may even get an entirely new attraction!
Please note

: the campaign will end on February 19th at 12 noon GMTC. Only decorations placed in your park until then will be counted and gain you prizes!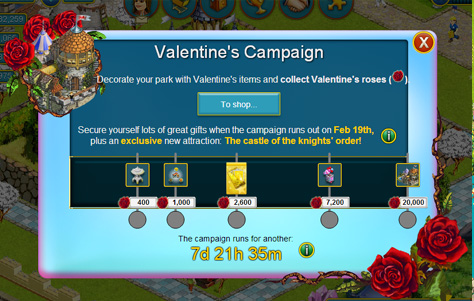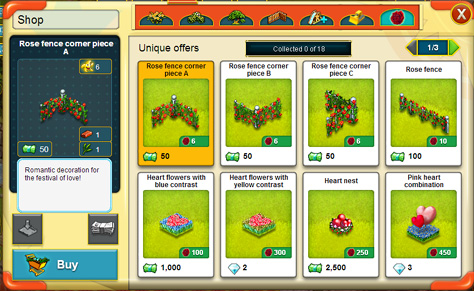 To open the overview that'll show you how many presents you have collected, please click the Valentine's rose at the right hand screen!

Let love rule in your park!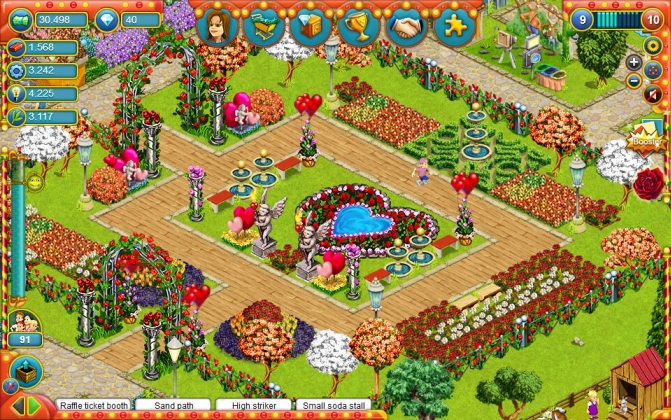 Plus, a formerly exclusive bonus item will now be available in your park-shop:
The Large Taco Booth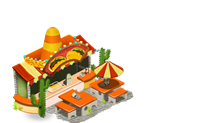 We hope you'll enjoy today's update. Have a lovely Valentine's Day with your loved ones!
Don't forget:
With a purchase of 100 diamonds
you can now test an entire gardener-team for 7 days.
That'll save you lots of work, and you won't have to keep watering your plants yourself. As of today, you'll no longer have to check your entire park for plants that need urgent watering!
How to test the gardener-team? Nothing easier than that!
We'll give you one for free with a purchase of at least 100 diamonds*.
Of course it's up to you to decide, when you'll set your team working then.
Certainly you can also still get the thrilling attraction "magic maze" exclusively only with a purchase from 200 diamonds on*.
Also mind: thanks to our bonus system, you can get bonuses of up to 30% on your payments!
Your My Fantastic Park-Team
*Please note that you won't get both bonuses with one single payment. From 100 diamonds on, you'll get the "gardener-team for 7 days", and from 200 diamonds on the "magic maze" as new attraction! Every payment is validated separately. You won't get the payment items if you execute several inferior purchases (for example: 2x 50 diamonds or 2x 100 diamonds). You will neither get the 20 bonus diamonds if you make a purchase of less than 200 diamonds at one go.